The total terrorism in the region is the fruit of terrorism by authoritarian regimes [across the Middle East & North African region]~Sheikh Rachid Ghannouchi
On October 28th, Sheikh Rachid Ghannouchi of Tunisia offered his perspective to the U.S. Institute for Peace in Washington, DC.   Ghannouhi, who was exiled during the Ben Ali regime, remains a vital voice in political, cultural, and religious circles throughout North Africa.  After Tunisians removed Ben Ali from power in 2011, Ghannouchi's movement, Nahda, led the first post-revolution government.  The Nahda party formed and coalition to write the country's new, more democratic, constitution. It is now a coalition partner in the secularist government led by President Beji Caid Essebsi. Sheikh Ghannouchi delivered remarks on the challenges facing his homeland and its region.
According to the U.S. Institute for Peace, Tunisia's biggest challenges include the rise of extremism during its economic downturn, due to, in part, declining tourism.  Conversely, Tunisia's declining tourism results from the violent extremist attacks.  Such violent attacks include the Bardo museum in 2014, the attack in Sousse earlier this year, and the three political assassinations since 2011.
However, one could argue that economic and socio-political unrest fomented during earlier authoritarian rule, and has finally come to a violent head.  As Sheikh Ghannouchi argued: political extremism in not just on the "right" but also on the "left", and therefore, moderation tempered with "consensus" is the only way to govern inclusively.
We believe violence is a problem not a solution…Must focus on spread of dialogue and reconciliation.  Dialogue between secularists and Islamists is key to democracy in Middle Eas~Sheikh Rachid Ghannouchi
Nonetheless, U.S. interests remain keen on focusing on the national security elements in Tunisia.  In sum, the USIP stated:
Tunisia's success or failure in building a peaceful democracy is central to U.S. and international interests in a stable North Africa, Middle East and Arab world—an importance recognized this month by the award of the 2015 Nobel Peace Prize to key mediators in the country's political struggle. After two attacks by militant gunmen killed scores of people and crimped the country's vital tourist economy this year, the government imposed a state of emergency—a step that raised fears among many Tunisians about a return to the country's decades of authoritarian, police-enforced rule.
Ghannouchi explains high number of Tunisians joining Islamist politics in Iraq & Syria is result of years of oppression under Ben Ali. This mirrors the parallel trend of double digit unemployment that has persisted since 2000.   Tunisia "can't fight terrorism without fighting the high level of unemployment," says Sheikh Ghannouchi. 

  Sadly, Tunisia has inherited of the highest number of fighters who joined ISIS; 3000.
Disillusion among young Tunisians has made the country one of the biggest recruiting grounds for violent militant groups such as ISIS. As Tunisian youth circulate to battlefields in the Middle East—and as this nation of 11 million people hosts one million or more  refugees from the civil war in neighboring Libya—how can Tunisia manage its borders, improve its security, prevent violence, and also strengthen democratic politics?
Yet, in the most recent election, the lowest voter turnount was by the young with 30% unemployment.
A skeptic among the panel, Robin Wright, pushed back on Ghannouchi's point that extremism increased in North Africa due to Tunisians political voice being suffocated in the Ben Ali ear.  She pointed out that it's been 5 years since Tunisia's revolution, so she finds it hard to believe that terrorism increased because of Ben Ali remnants & festering tension.  She specifically raises this contention in her new book "Rock the Casbah: Rage & Rebellion Across the Islamic World" and gives more weight narratives in Egypt & Tunisia (described as a weakness to frame context) and comments on the rise of ISIS from Tunisia to Iraq.  The lack of freedom, education, and under-development causes extremism, says Ghannouchi.  Also the political left's denial of Islam as part of the social and cultural fabric contributes to internal unrest in Tunisa.  Ghannouchi brings up a relevant counterpoint, however, many could argue that the extremist elements within the political left have not, yet, resorted to violence.
Photo of Rachid Ghannouchi Presenting at U.S. Institute for Peace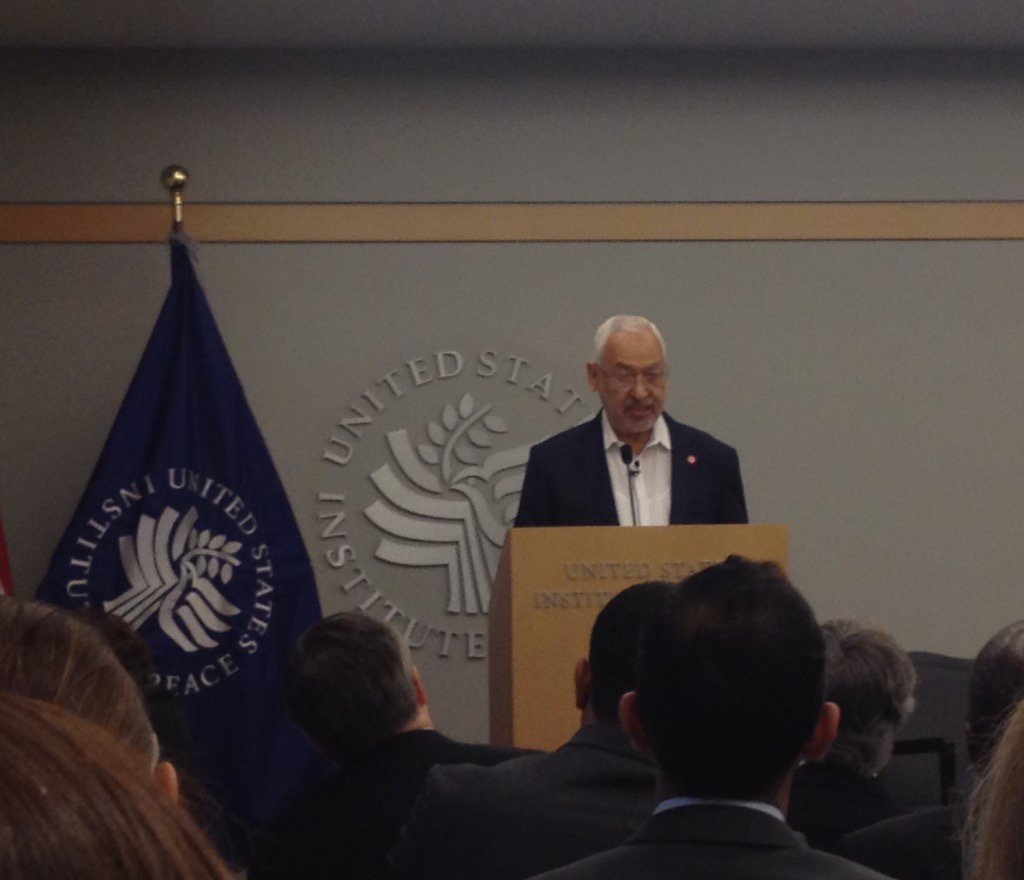 Highlights from Ghannouchi Speech

• Government cannot be ruled by simple majority of 51%…better to rule w/more consensus as seen with the Nida Tounis coalition formed in 2014.~Ghannouchi
• Tunisia as a third way, beyond false binary between oppression (to get stability) or extremism (to get justice)

 Cooperation by way of moderate Islamists & moderate secularists is necessary for the success of democracy in our region.
• We wanted democracy for all Tunisians, not just a majority.

Ongoing Questions

Where are the redlines of the sacrifices made by ElNahda's party when they join coalitions?
How can a "Marshall Plan" target sectors of development deemed as priority by Tunisians?
---